About Notre Vue Estate & Winery
Notre Vue Estate & Winery is a breathtaking property spanning 710 acres just minutes south of Healdsburg, and directly in the town of Windsor's backyard. The vast views from the summit are a patchwork of vineyards and open space seamlessly woven together, hence the French name "Notre Vue" which means Our View. The property features 350 acres of "Forever Wild" protected open space and 250 acres of beautiful rolling vineyards. Our wines are made in the European style, focusing on finesse and purity, and made with low intervention, clean winemaking styles.
Notre Vue Estate takes pride as a certified Sustainable Vineyard and Winery producing ultra-premium wines from our estate vineyards that straddle two of California's most famous viticultural appellations: Russian River Valley and Chalk Hill, located in Sonoma County. What makes us special is the diversity of terroir that sweeps across the rich tapestry of our land, allowing us to grow a selection of 16 grape varieties, including some European varieties rarely found in Sonoma County. Our 710-acre estate boasts many diverse microclimates, including rare soil and slope combinations. The wines we produce at our estate vineyards are recognized for their uniqueness and richness.
Notre Vue Estate & Winery produces wines under the Notre Vue label which are sold primarily in our tasting salons and in select restaurants. We also produce wines under the Balverne label which is a brand that was historically famous in the 1980's being poured at the White House multiple times as well as the famous Brown Derby and Spago in Los Angeles and Sparks Steakhouse in New York. Balverne wines were produced on the estate in the 1980's and the brand was carefully resurrected by the Notre Vue Estate owners in 2012 to honor Balverne's history. In 2022, Notre Vue Estate celebrates its 30 year anniversary under the current ownership. Notre Vue Estate is helmed by co-founder Renée Brown-Stein.
Grapes have been grown on the property since 1869 and commercially for wines since 1907.
In addition to producing multiple wines under our two labels we also sell our grapes to many premium wineries in Sonoma County and Napa Valley. Our grapes are found in some of the most well-known wines from Sonoma and Napa.
Come join us at our beautifully serene Lakeside tasting pavilions or on The Terrace at Block 23 which features one of the best views of any Sonoma County Winery. If you're up for an adventure, explore some of the 14 miles of hiking trails crisscrossing our nature preserve. If you're not, enjoy a charcuterie board and have a picnic by the lake, where you'll commonly spot, herons, otters, ducks, deer, and other wildlife.
Notre Vue, Notre Vie and Notre Vin! –Our View, Our Life, Our Wine.
About the Owner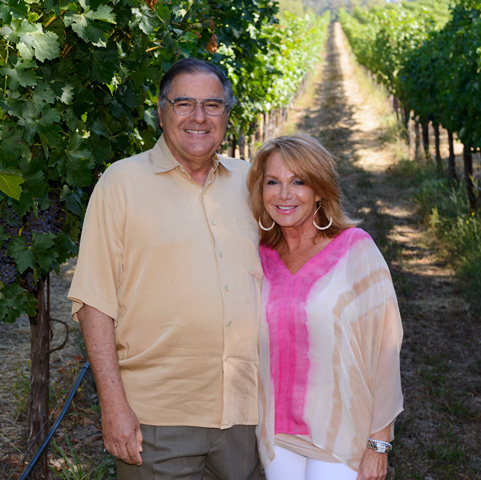 Inspired by the French phrase for "our perspective," Bob and Renee Stein fell in love with a property in the heart of Sonoma County which they acquired in 1992.
Standing on a ridge looking out over 710 acres of rolling hills of vineyards which straddled two appellations---Chalk Hill and Russian River---the Steins committed to establish an agrarian heritage on the property, maximizing its potential for world-class grapes and wine and a remarkable visitor experience.
Sadly, Bob Stein died in February of 2021. Renee now continues their commitment to this remarkable property, taking her place amongst other distinguished women vintners around the world.