August 31, 2017 | Harvest, Winemaker |
Harvest 2017 - So far, so great!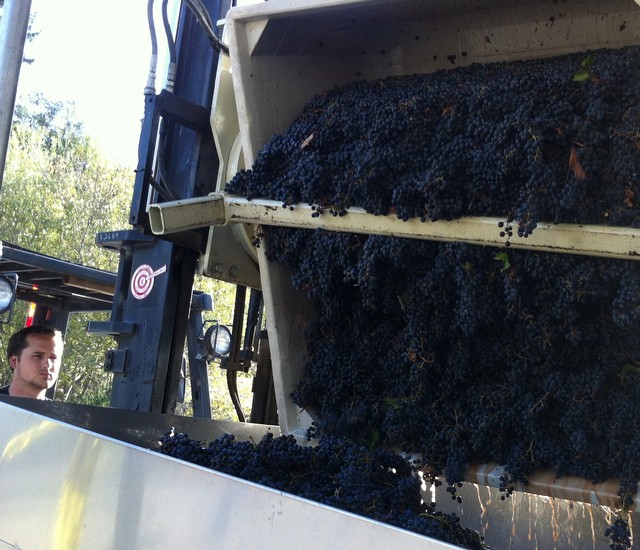 One minute we're sitting around waiting for grapes to ripen and watching the weather reports, next minute we're knee deep in Sauvignon blanc and Pinot noir! But still watching the weather reports!
Yesterday we kicked off Harvest 2017 with some Pinot noir destined for the reserve tier. Always good to start with the best and hope to hell everything works perfectly on Day One. And it did! We now have Blocks 12A and 12B in house and I am happy to report good sugars, good acidity, great color and most importantly great flavors! Already we can taste lush, spicy black cherry berry flavors creeping into the sweet juice. Color is slowly extracting. We'll keep these two lots on "cold soak" for four or five days until we have solid extraction of color and flavor. Then a quick check to make sure sugars and acids are good and off we go! We'll pitch with yeast, stand back and watch the magic happen. Our dear friend Saccharomyces will start munching up all the sugar, converting it to alcohol and carbon dioxide, and the cellar will fill with delicious aromas of fermentation as the delicious juice becomes precious wine!
Today we are processing the Sauvignon blanc. The pristine grapes started arriving at the winery at about 3 AM with the first press load getting underway at 6:30 AM while everything was still cool and with a light fog lingering until sunrise. We'll do four press loads today finishing up at about 8 PM tonight. Then clean up. Ah, harvest . . . gotta love watching that overtime pile up!
Yesterday our harvest intern was a rookie. Today she is already a full-fledged cellar hand! A great thing about interning here and helping us out with the harvest activities is that, due to our smaller size, each intern gets exposed to all aspects of the winemaking process very quickly. They'll do lab work, analyzing juice and wine samples for acidity, sugar, malic acid and such. Also some cellar work cleaning and sanitizing tanks and equipment, destemming fruit, doing pump-overs, making tank adds, shoveling out tanks. And, yes, enjoying an ice-cold beer at the end of a long, hard day!
Yikes! That reminds me . . . I still need to stock the frig with beverages! A winemaker has to do everything . . .
Breaking news . . . the lab just gave me the results of the juice analysis on the first load of Sauvignon blanc. Perfect numbers! Now that calls for a beer!
Stay tuned, folks . . . we have a major heat spell approaching this weekend. These are always fun! Our intern thinks today was a long day? Ha! "Warp Factor Nine, Scotty!"