November 10, 2021 | In The News | JT Trisko
Notre Vue Estates: A Forward View on Wine and Our World
By Rich Cook
I recently had the pleasure of getting out of the house to do a little wine judging in Sonoma County, and I have to say it was a great pleasure not only to hit the road as pandemic restrictions ease a bit and be in the same room with other wine friendly folk, but also to extend for a couple of days and visit a producer in the area. A favorite publicist put me on the scent of Notre Vue Estates, a 710-acre spread just east of Limerick Lane on the south side of Healdsburg that straddles the Chalk Hill and Russian River Valley AVA's, and it turns out that "scent" is what it's all about when it comes to the wines produced there.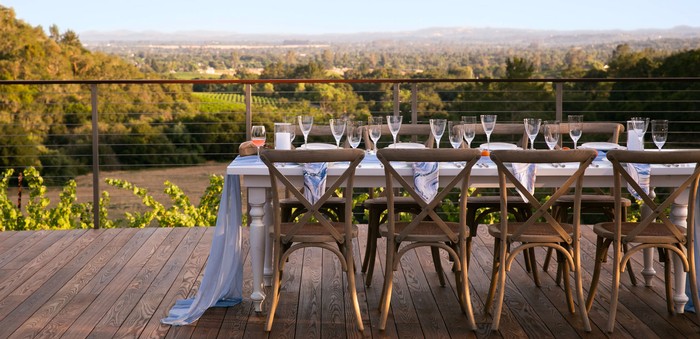 Purchased by Bob & Renee Stein in 1992 with a vision for producing fine wine, the property currently has 250 acres planted with sixteen different grape varieties, and 350 acres were donated to the Sonoma County Open Space District as a permanent protected "forever wild" reserve. The planted acreage features multiple exposures and microclimates in the rolling hills, and the vineyards are certified sustainable. Their Balverne "Forever Wild" label features value-forward Pinot Noir, Chardonnay, Sauvignon Blanc and a Pinot Noir Rosé, with the Notre Vue label featuring high-line Pinot Noir, Chardonnay, Cabernet and Rhone inspired offerings.

Current winemaker Alex Holman is an industry veteran, bringing years of US Army and chemistry experience to bear at Keller Estate, Dry Creek Vineyard, Paul Hobbs, J. Rickards and sparkling wine juggernaut Rack & Riddle before joining the team at Notre Vue in 2019. I got to chat with Alex about what he's been through since joining the estate and his philosophy of wine, and he's had quite a ride already, having gone through a winery fire in May of 2019, losing 500 barrels and 5000 cases in the blink of an eye; the Kinkade fire post-harvest of that year, where almost 50% of vineyards were damaged; the Glass fire in 2020, which caused the loss of almost the entire vintage to smoke and ash issues; and pandemic induced labor shortages. Even in the face of such calamities, he remains optimistic about the estate and the potential it carries. He's a true believer that great wine is made in the vineyard, saying "I know how to be a wine doctor, but I try not to have sick patients." That focus and a keen talent for coaxing deep aromatics and using minimal intervention techniques that let them shine is the estate hallmark.

I checked in with Alex this week for his take on the 2021 harvest, and he was encouraged even in the face of a 25% reduction in tonnage over previous years thanks to ongoing drought conditions in California, plus an atmospheric river event that brought torrential rains during harvest. He reports good color, brighter acidity than the last few years, and solid aroma and flavor profiles across the varieties harvested. Keeping the patient well in 2021 required spoon feeding of water to the vines after deep watering early on – and that's on an estate that's usually virtually dry farmed. He also mentioned that they are keeping a weather eye on the 2020 wines that they did go ahead with – dealing with smoke taint is a relatively new science. The smoke taint molecule latches onto sugar molecules and sits dormant in a way, waiting for interplay with a wine's acid to release a smoky character. Fortunately, insurance stands ready to take the hit if decisions are made to drop part or all the vintage to maintain brand reputation.