2016 Balverne Reserve Malbec $45.00 /750ml
We are incredibly proud to be releasing the first Malbec ever produced by Notre Vue. While your mind might first go to Argentina when you think about this varietal, our Chalk Hill Reserve is
certain to shatter your belief that great Malbec only comes from South of the equator. Showing a deep, inky purple, the fruit was brought in right at the end of our 5-year drought, resulting in small, concentrated berries. After spending 2 years in 50% new French oak barrels and another 6 months in the bottle, the wine is beginning to express its true identity. Deep fruit, subtle florals, and perfect structure rests under every cork.

2015 Balverne Reserve Chardonnay $33.00 /750ml
Crafting a great bottle of Chardonnay requires artistry, patience, and skill. With a fairly neutral profile, the grape responds well to various winemaking techniques. The Balverne Reserve Chardonnay has been carefully crafted, employing methods such as a secondary,
malolactic fermentation and batonnage to give the wine a smooth, creamy mouthfeel. 12 months in the highest quality French oak
barrels has enhanced the profile, affording the Chardonnay notes of vanilla and nutmeg. Finally, it is impossible to create great wine without quality fruit. Our vineyards have been carefully tended, resulting in beautiful grape clusters and expressive wine.

2015 Notre Vue Rhone $49.00 / 750ml
The Syrah grown on the Estate thrives at one of the highest reaching blocks on the property. Extensive sunshine coupled with
mountaintop breezes allows the grapes to ripen beautifully, delivering a concentrated, dark fruited wine. Aged for two years in 100% new
French oak barrels, the 2015 Rhone blend picks up delicate hints of vanilla bean, espresso, and dark chocolate. The wine is the perfect companion to filet mignon and bacon blue cheese burgers alike.

Hello... Jen here! We have officially released our 2019 Event Calendar and couldn't be more excited. We have been lucky enough to have hosted a handful of great events already this year; there is literally something for everyone, and we are looking forward to seeing you all here this year ... although most of these events are aimed at our locals, we hope to see you here on a future visit. We have something fun going on several times a month, so please check out our website or visit the tasting room for details! We have also updated the tasting experiences on the property, so please grab a friend and come taste the delicious new releases inside our salon, lakeside or overlooking the estate on our Block 23 Terrace. Please visit our events page or contact:
Jennifer Hanshew
707.433.4050 x126
jennifer@notrevueestate.com
Here is a sneak peek at a few of our upcoming events:
Barrel Making Seminar: April 12, 2pm-5pm
Movie Night: April 26, 6pm-8pm
Wine Club Party: May 4, 1 pm-4pm
Spring Floral Workshop: May 5, 11am-2pm
Spring Celebration Luncheon: May 18, 12pm-3pm
Painted Cellars Paint Night: May 30, 6pm-8pm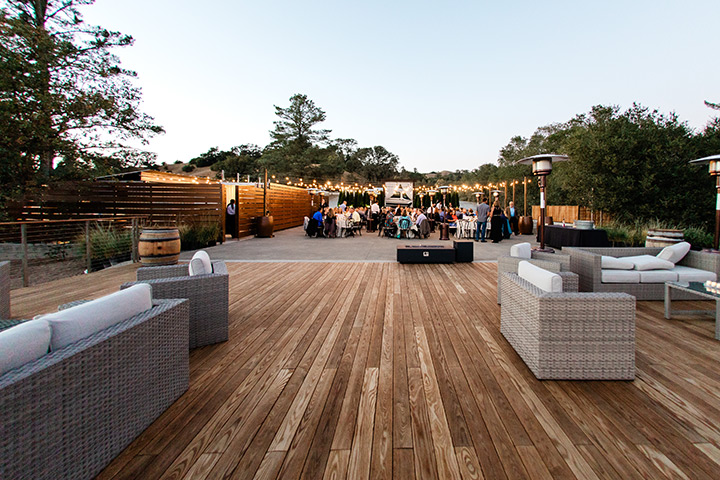 Swedish Meatballs with Lingonberry Sauce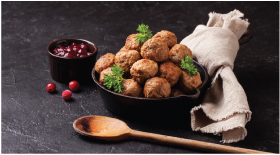 Ingredients:
3 pieces white bread, with the crust removed, torn and soaked in whole milk
1 lb. ground beef, 1 lb. pork, and 1 lb. veal
4 Tbl. of butter
1 small minced onion
2 egg yolks
1/2 c. of heavy cream
2 Tbl. of salt
Cracked black pepper
2 tsp. of allspice
1 bowl cold water

Sauce:
2 Tbs. of butter
2 Tbs. of all-purpose flour
3 c. of chicken stock
Salt and freshly ground
black pepper
112 c. of heavy cream
1 to 2 Tbs. of black
currant jam
1/4 c. of chopped
parsley leaves
Lingonberry jam, for serving
---
Directions:
1. Preheat the oven to 325 degrees F.

2. Melt 1 tablespoon of the butter in a large saute pan over medium heat. Add the onion and cook until translucent. Move the onion to a plate to cool. Wipe the pan with
a paper towel.

3. In a large mixing bowl, combine ground meats, egg yolks, heavy cream, and onion. Add salt, pepper, and allspice.
Squeeze excess milk from the bread and add it to the bowl. Mix gently.

4. With a bowl of cold water standing by, form meatballs 1-inch across. Dip your fingers in cold water to keep the
meat from sticking.

5. Melt the remaining butter in the saute pan and add a layer of meatballs as the foam mellows. Do not over-crowd the pan and shake it occasionally to round out the meatballs. Brown all of the meatballs, in batches, moving them to a large oven safe dish when cooked. Put the dish in the oven for about 20 minutes.

6. Sauce: Pour off most of the fat from the skillet and return it to the heat. Add 2 tbs of butter and swirl it around to coat the pan. Sprinkle in the flour, and stir with a whisk to dissolve the flour into the fat. Pour in the chicken stock and stir to loosen the bits from the bottom of the pan. Simmer, stirring, until liquid is reduced and mixture thickens to a sauce. Season with salt and pepper to taste. Lower the heat and stir in the cream and black currant jam. Add the meatballs to the sauce. Simmer until the sauce thickens slightly and the meatballs are heated through 15 to 20 minutes. Sprinkle with chopped parsley.