August 17, 2018 | Winemaker |
What in the Blazes is Happening?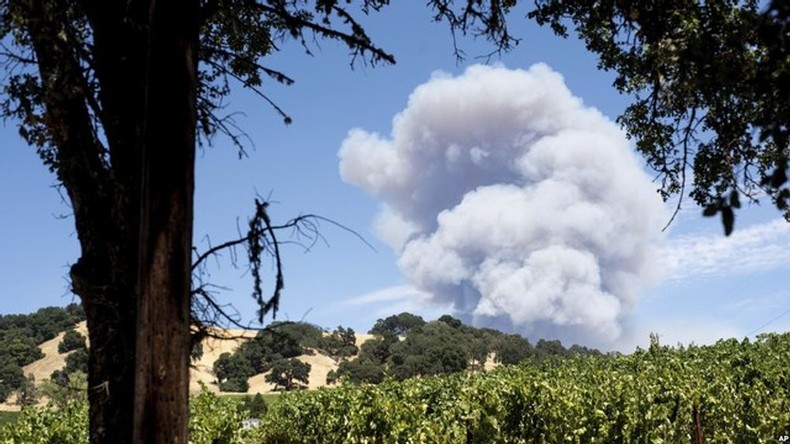 If you live in California you just know we're going to have some wild fires every year. With all our beautiful forests along with our low humidities and high temperatures, fires are simply inevitable. But, holy moly, this is getting crazy!
Last year you will recall wild fires devastated Sonoma County with Santa Rosa being particularly hard hit. This year Mendocino and Lake Counties are ablaze. At last look, I counted 18 major fires up and down the state. A horrendous number of acres have burned, countless structures destroyed and, sadly, all too many lives lost.
Given that last thought, it is hard now to switch to winemaking and to comment on the damage wild fire smoke can do to wines. It all seems so trivial in light of the dire effects the fires have on so many peoples' lives.
The warmest and driest part of the year here, when wild fires are at their height, typically coincides with our grape harvest. As grapes ripen and skins soften, the fruit becomes very susceptible to damage by smoke. "Smoke taint" is caused by grapes absorbing volatile phenolic compounds produced when wood burns. These phenolic molecules then bind to sugars inside the grapes to form glycosides.
Once these glycosides are formed, the original volatile phenolic compounds can no longer be detected by smell or by taste. There is no perceived smoke taint at that point. The problems begin to surface as the grape juice is fermented and wine is made. As the wine develops and ages the acidity in the wine begins breaking down these glycosidic bonds releasing volatile "smoky" phenolics back into the wine. It is these compounds that give a "smoke tainted" wine its characteristic old campfire smell or odors reminiscent of a cigarette ashtray. These are not pleasant smells or tastes and are not to be confused with the lovely toasty, smoky notes associated with some oak barrel treatments.
A wine can even smell just fine but, when consumed, taste of these campfire/ashtray characters. The thought here is that enzymes in your mouth are breaking the glycosidic bonds and releasing volatile compounds literally as you consume the wine.
Though methods are available to rid wines of the volatile smoky compounds, they are by no means 100% effective. While the volatile compounds that exist at treatment time might be removed, more will be released as the wine continues to age. Consecutive treatments are therefore needed and even then there is no guarantee that the problem will have been resolved.
Here at Notre Vue Wine Estate, I am happy and relieved to report that we have had no smoke damage to any of our wines produced to date. While we might be surrounded be fires, none is close enough nor the smoke thick enough to have caused any smoke-taint issues.
For all of you so negatively affected by the fires, please know everyone here at Notre Vue Wine Estate is praying for your well-being. Our thoughts are with you always.