November 20, 2017 | In The News, Wine & Food Pairing, Winemaker |
The Wine Does Go Well with the Turkey!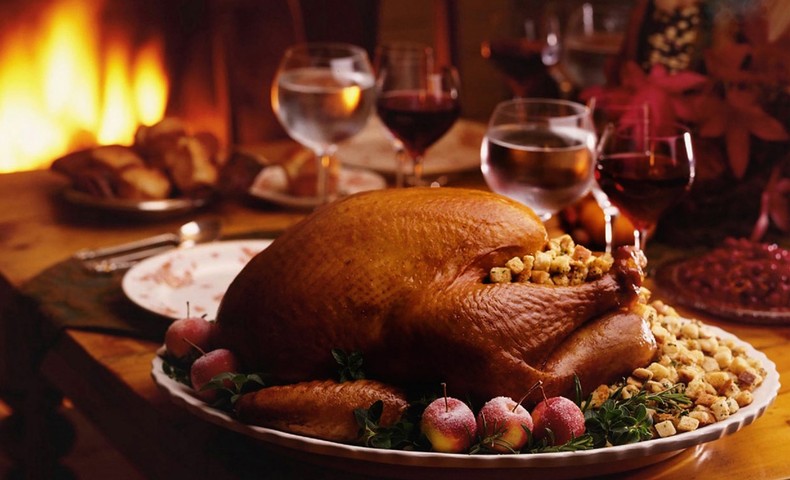 What wine goes best with turkey? Balverne and Notre Vue, of course! End of blog! Simple! Stock up now!
But, seriously, folks, "What wine goes best with turkey, in my opinion as a winemaker?" Balverne and Notre Vue! 'Nuf said! OK, OK . . . here are my thoughts in a little more detail.
If you haven't tasted the Balverne 2016 Rosé of late, what better time? This is a perfect aperitif wine and pairs beautifully with a multitude of appetizers. So, too, the 2016 Balverne Sauvignon Blanc. Both offer strikingly fruity flavors, rich body and nice acidity. My caution? Have a few extra bottles on the ready as this stuff will go fast!
While both the Rosé and the Sauvignon Blanc can accompany turkey beautifully, also consider Chardonnay and Pinot Noir. Chardonnay pairs terrifically with mushrooms believe it or not, so works well with mushroom soups, gravies or sauces and alongside turkey stuffing with wild mushrooms. The wonderful pear and ripe apple notes of Chardonnay love crispy turkey skin, too! It's a holiday so splurge for the 2014 Notre Vue White Blend. This wine offers a blend of Viognier, a very flowery, fruity wine with the lushness of Chardonnay in royal style that will stand up to juicy turkey. For those of you inclined to go "red," the classic strawberry, black raspberry and cola characters of Balverne's Pinot noir wines are a perfect match for roasted turkey and accentuate the perfumed complexity of stuffing seasonings and cranberry sauces.
Those of you preferring wild roast duckling or duck breast for your feast can't go wrong with Balverne's Pinot Noir but if you want to be a bit more adventurous, pair this with Notre Vue's 2104 Rhone blend, a wine focused on spicy, peppery, Syrah wines for a real treat! Big and bold, with hints of a gamey character, this is perfect match with wild duck, pheasant and rabbit.
Prime rib, baked broccoli with a cheddar cheese sauce and pan-roasted garlic potatoes? Yup, grab that Cabernet Sauvignon! Balverne's 2014 Chalk Hill Cabernet is delicious right now, big and bold, packed with black cherry and wild berry notes. Those of you grilling a slab of prime rib over hot coals should consider Notre Vue's 2014 Bordeaux Blend. The lush black cherry notes of the Malbec work synergistically with the herbal black fruit flavors of the Cabernet, with just enough tannin to help carry the beef's fatty marbling. A special wine for a very special occasion.
Whatever your choices, on behalf of all of us here at Notre Vue, I wish you a very Happy Thanksgiving. We would be honored to be a part of your celebrations through the sharing of great Notre Vue and Balverne wines.
Be safe this holiday season!