May 30, 2018 | In The News | Renee Brown-Stein
Tips to Host Your Outdoor Wine Tasting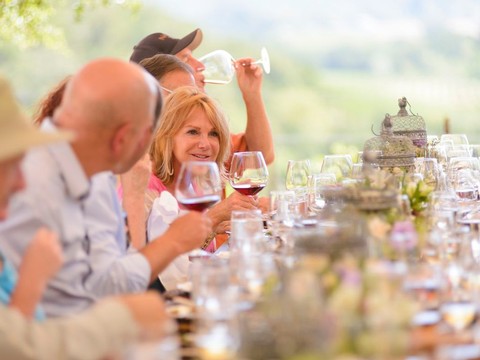 With Al Fresco season upon us, I thought I'd share a few entertaining tips for hosting your own outdoor wine tasting. I feel that culinary pleasure and entertaining with friends and family refreshes the soul, revives the spirit, and creates new memories!
This is a perfect time of year to lean toward lighter wines. I recommend our 2014 Notre Vue Estate White Wine, a beautiful blend of Chardonnay and Viognier. Perfect with Brie cheese, this wine is also an excellent accompaniment to sautéed sole and seared scallops. I would also suggest our 2017 Balverne Rosé of Pinot Noir Reserve, which is fabulous with a fresh goat cheese salad, as well as shrimp, crab or lobster.
Now the fun part begins – setting the table! I start with a fresh, white tablecloth, with a burlap runner. Staging your buffet table, roll crisp white napkins, tied with raffia or twine, with a sprig of lavender tucked into the tie. For nibbles, create different heights with 2 or 3-tiered serving platters. For a simple, outdoorsy feel, mason jars are a nice alternative to use for your floral arrangements.
Setting the ambiance with white bulb string lights and various heights of white (unscented) votives along with your favorite play list will get your guests glowing and relaxed.
Have your all-purpose wine glasses staged and ready to go. You'll also want to have chilled water nearby, and plain water crackers to cleanse the palate. When pouring tastes of wine for guests, a good rule of thumb is a 2 -ounce pour for each tasting, but feel free to indulge with a bit more.
Feel free to share photos of YOUR Al Fresco Wine Tasting Party on our social media channels. We'd love to see your ideas too!
-Renee Brown
Executive Vice President, Notre Vue Estate