Did you know that wine tasting & floral design go hand-in-hand?
I learned that this weekend as Pam Bell from Dragonfly Floral patiently coached a group of twenty visitors (including myself and my colleague Tyffani) through the design of a Mother's Day bouquet, while Pete from Notre Vue Estate refilled our wine glasses with exquisite tastings of Rosé, Sauvignon Blanc, and a white blend.
Sitting on the tasting deck, overlooking the pond swimming with geese and goslings, we learned how to trim, set, and arrange our flowers. That view, coupled with the fresh smell of roses and lavender, gave the whole experience an extraordinary feel. We even had some caterpillars join us for the fun!
Pam Bell has been in the floral design business for nearly thirty years. She calls flowers by name, and has an eye for placing stems perfectly in the vase. As we drank our wine and designed our own arrangements, Pam let us in on a few secrets of the business. Here are some tips we learned from her!
Pam's Tips on Floral Design:
• Always use fresh flowers, when possible, and preferably ones that haven't opened up yet
• Cut your flowers early in the morning, when the world is just waking up; the sugar balance in the plant is best
• Cut flowers at an angle, and place them immediately into water, so that they last longer
• Design your arrangement from the top and sides. This way, the bouquet will reflect its beauty from any angle!
• If working with hydrangeas, flip them over and soak them in water when they start looking lifeless; they'll come back to life
• When using a vase, try to use one with a flare at the top; the flowers naturally bloom that way!
• Use the ratio 2:3; 2-3 greens per every 3 flowers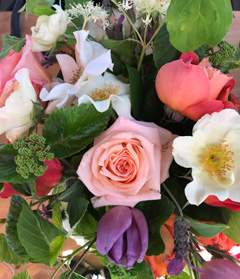 To view more fabulous photos
of the event, please check out our
Floral Design & Wine Photo Gallery!
Here is the design that we worked with, and its accompanying recipe:
• 3 stems of dogwood
• 3 strands of viburnum
• 2 sparrieshoop (roses)
• 3 tulips
• 4-5 pinkish-orange roses
• 3 sprigs of lavender
Thank you Pam Bell and Notre Vue Estate for an incredible start to our Mother's Day celebrations. Looking forward to the next one!