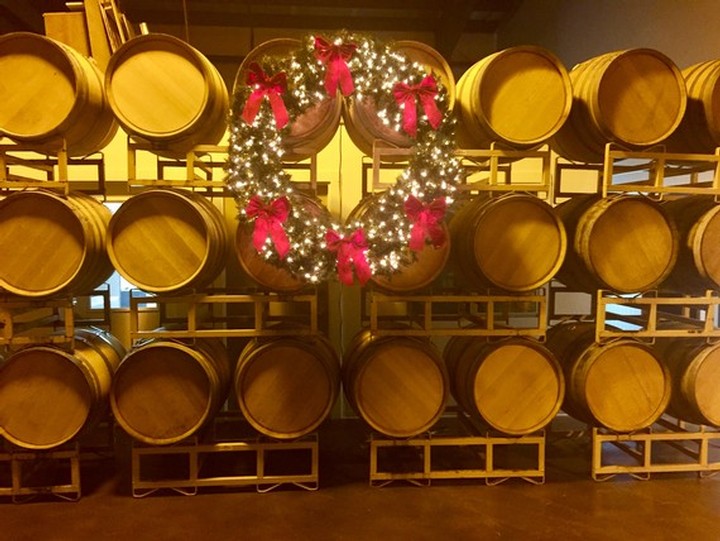 Season's Greetings to all! For those of you that joined us for our recent Holiday Party, it was great to see you all. Those of you that missed it, hang tight, there will be plenty more excitement coming in 2018 and we all look forward to seeing you then!
Harvest 2017 is in the house. All grapes are in, all fermentations complete (almost!) and most malo-lactic work is done. We're busy racking the new wines off the gross lees, adjusting acidities as necessary and returning the young wines to clean barrels for aging.
Rarely is a wine bottled without some sort of blending taking place beforehand. Even the Sauvignon Blanc is a blend of two stainless steel fermented tank lots and a bit of barrel-fermented wine. The Rosé, too, is a blend of two different lots. But this is pretty much straight-forward blending. You want to use all the components so you do a trial blend and, if it tastes good, then off you go!
Blending the Notre Vue wines in particular, then the Balverne Cabernet and Pinot Noir wines, entails quite a bit more "art." Let me walk you through my current thoughts regarding the Notre Vue Bordeaux blend.
Each month I taste through our whole inventory, lot by lot, watching the maturation process proceed and monitoring the wines for any issues that might need addressing immediately. Concurrently I am always thinking about the final blend and what might work best to create that wine. Does it look like Cabernet Sauvignon will continue to be the base of the blend? And, if so, what lot(s) will be selected for that purpose and in roughly what amounts? Or maybe Malbec is particularly strong. Might it be strong enough to be the base upon which I build the final blend? If so, that Malbec better be concentrated, balanced and loaded with fruit and strong tannins.

Winemaker Michael Westrick blending wines right from the barrel at our Winter Wonderland Holiday Party.
As those of you who barrel-tasted with us recently noted, it looks like Cabernet Sauvignon will again frame the blend for 2016. And that is by no means surprising even though the Malbec is superb! Cabernet is referred to a the "King of Grapes" for a reason. Our 2016 is powerfully concentrated, packed with dark berry fruit and graced with elegant tannins. And so I will start with Cabernet Sauvignon from Block 37 as the base. But how much? What percent of the final blend? And what will I add to that base? In what quantities?
As you might have gathered from above and from your tastings here, Malbec will certainly play a huge role in the 2016 blend. It is particularly lush and loaded with spicy, aromatic black fruit. Petit Verdot is commonly used in Bordeaux-styled blends to add structure and inky-dark color. Our 2016 Petit Verdot fits the bill perfectly and so will also play an integral part in the blend. Merlot? Cabernet Franc? How much new oak? What coopers will be included?
What does this all mean? And how will you actually "know?" The answer to those questions lies in the blending process. This is where art takes over from the science, where years of experience pays huge dividends. I will sit down in a room by myself, with samples of the components available, and literally start tasting trial blends of "some of this with a bit of that." This is exactly like building a spaghetti sauce, starting with ground beef, adding tomato sauce, throwing in onion and garlic, adding basil or maybe oregano, fine-tuning with rosemary and thyme, and finally completing the sauce with a bit or salt and/or lemon juice. Exactly the same process in blending a wine but it takes much more time. After tasting a series of trial blends, I will then set up a series of new blends to taste, trying to hone in on that one blend that always surfaces as the best in each flight of trials. When that starts happening, I'm done!
Or am I? The next step is to take a sample or two home and taste the trial blends with food. Debbie will taste them with me, too, and offer thoughts. Does the blend work? Is it balanced? Does the tannin need adjusting? Are the aromatics attractive? Is the fruit strong and defined? And, the final question, does it taste good? Simple final question but not always easy to answer.
And so it goes. It may go quickly with the final blend appearing quite early in the process. In tougher vintages the trial blending may go on for weeks. Ultimately, one way or another, one blend will stand out as being the best. When that day arrives, when that best blend surfaces, we will physically assemble the parts in a big tank and "make the blend." And that is a bit of a stressful day for a winemaker as there is no turning back once the blend is made.
I hope that gives you a bit of an idea of what the blending process entails. In 2018 we are hoping to offer a "Blending Seminar" here at the winery. This is something you do not want to miss as you'll have a chance to work with five different wines and to come up with your own unique blend. We'll then taste your blend against those of the other guests.
Will you be the next "Top Winemaker ?"